This unique programme has been specifically designed by Grant Thornton Cyprus for high school students (currently in year 5 or 6).
At Grant Thornton, talented people are at the heart of our strategy and drive all of our successes.
Grant Thornton offers something you can't find anywhere else. This is the opportunity to develop your ideas and thinking while having your efforts recognised...
Grant Thornton can give you a flying start. We are ambitious. Take the fact that we're the world's fastest-growing global accountancy organisation.
CIBS allows you to see what information the hacking community has on your employees through an initial health check, and our subscription gives you the ability to identify new information leaks through ongoing monitoring.
The Challenge
In order to successfully reduce cyber risk, you need to know what security information is already available to cyber criminals that could compromise you or your clients, outside of your network perimeter. Keeping a watch on what is being traded on the dark web, and what data background software exchanges may be making freely available without your knowledge, means that you can take effective action to reduce your risk of either a successful cyber attack, or your systems continuing to leak sensitive business or client data.
Our Solution
CIBS continuously scans the dark web and deep web to identify any mention of your data, from breached security credentials (e.g. usernames and passwords) that could be used to hack into their systems, to instances where client data is being made available. Our system automatically adds over 3,000 access points per day and captures data that may only be made available for a matter of minutes or hours in criminal forums. This allows you to take action on information that has leaked, help qualify the cyber risk for boards and be seen to be proactively search for personally identifiable information leaks to minimise the risk of exposure under regulations such as GDPR. In addition to alerting on new data, you also receive a quarterly threat intelligence report summarising the trends and advice relevant to your sector.
Key benefits of CIBS
unparalleled access: Our system has broader and deeper access to the deep web and dark web than any other supplier on the market
risk reduction: We will provide you with actionable guidance on how you can reduce your cyber risk based on the results of our CIBS monitoring
timely alerts: We only alert on new instances of data being seen, not old data being recycled – ensuring new threats are identified early.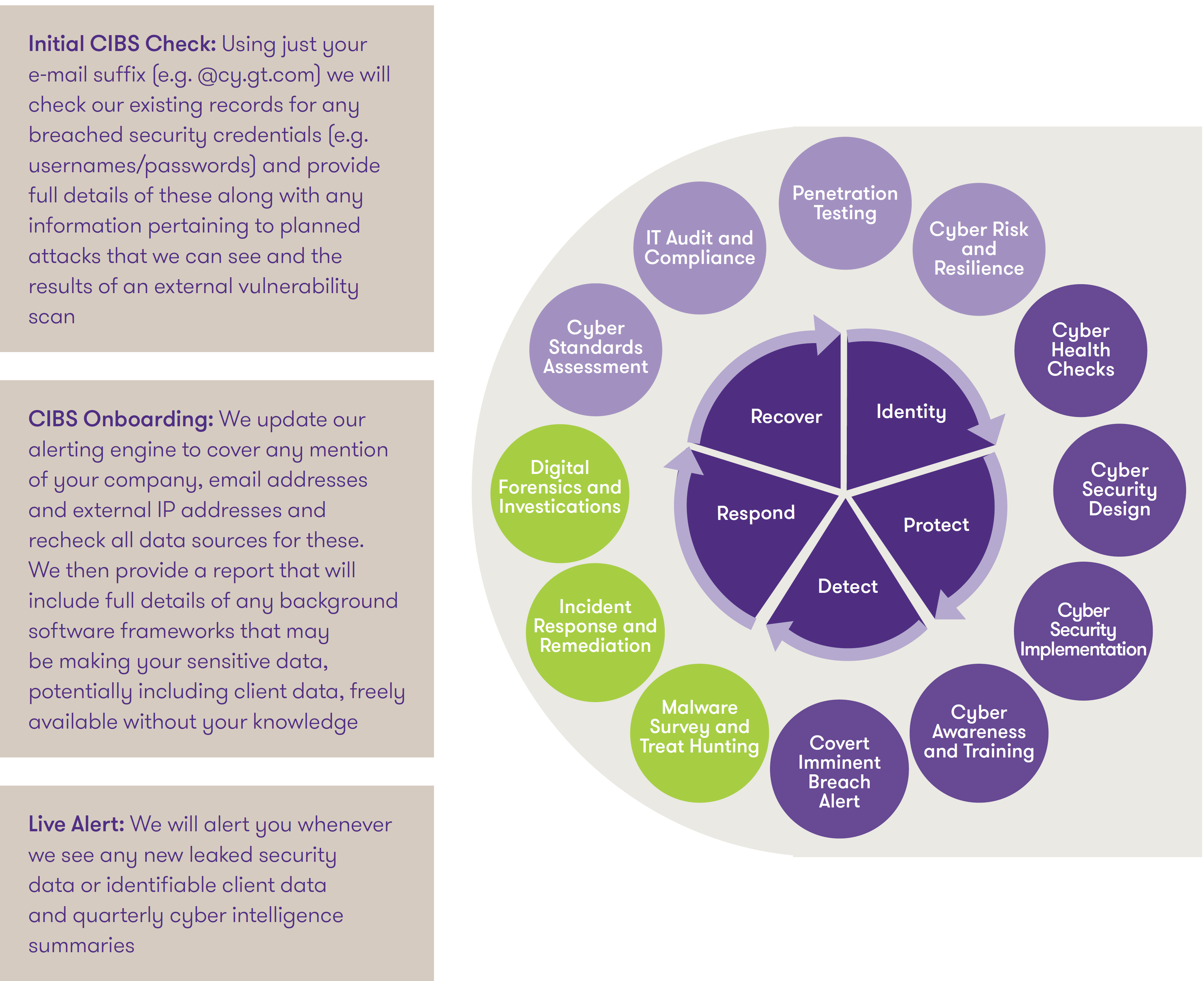 Grant Thornton Cyprus provides global intelligence-led cyber risk and current
threat profiling. We provide specific, pragmatic and actionable industry
best practice to improve cyber security posture and help manage security
incidents if required.
We can assist you to identify potential risk. We can provide you with the
information you need to make informed commercial decisions to either
maintain or improve your cyber security and allow you to manage your
organisation with confidence.
Covert Imminent Breach Subscription (CIBS) Brochure
Download PDF [3542 kb]