This unique programme has been specifically designed by Grant Thornton Cyprus for high school students (currently in year 5 or 6).
At Grant Thornton, talented people are at the heart of our strategy and drive all of our successes.
Grant Thornton offers something you can't find anywhere else. This is the opportunity to develop your ideas and thinking while having your efforts recognised...
Grant Thornton can give you a flying start. We are ambitious. Take the fact that we're the world's fastest-growing global accountancy organisation.
Organisations of all sizes, across all sectors are undergoing digital transformation to varying degrees. They are embracing digital technologies for improved business models, selling in new markets, with new products and moving into entirely new spaces.
These technologies, for all of their undoubted benefits, also carry risks and cybercriminals are anxious to exploit them. Cybercrime isn't just reserved for large multinational organisations, every company operating across every sector is at risk. It's no longer a question of if an organisation will be attacked, it's when. Increasingly, the risk from Cybercrime in amplified by the regulatory focus whether from GDPR, the Central Bank of Cyprus or the NIS directive.
The Grant Thornton Cyprus Digital Risk Services team helps organisations defend against attacks, recover from them, minimise the damage caused and meet their regulatory obligations. Our team is one of the largest in the country and is made up of technical and subject matter experts who have deep practical experience in multiple disciplines in the areas of Cybersecurity, Data Protection, Governance, Risk and Compliance (GDC), Incident Response and Digital Forensics, IT Audit, Third-Party Assurance, Training and Awareness.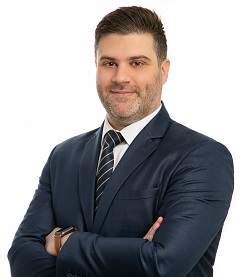 Get in touch
Digital Risk Leader
Digital risk services
Network and Information Security (NIS) Directive
Find out how we can help
Find out how we can help
Digital risk services
Prepare
We help you understand your current exposure to cyber security risk and support you to develop an effective security capability. Our services include:
cyber security risk and threat assessments e.g. ISO27001, ISO 27701
security policy development
security process improvement
technical assessments
third-party cybersecurity assurance
compromise assessment. Identifying ongoing or past Cyber intrusions in to your network
simulating a phishing or general Cyber attack.
Protect
We develop and implement the technical framework and broader processes required to protect you from Cyber-attacks. We can help you with:
security architecture and design
security technology implementations (e.g. SIEM)
security process design and implementation
identity and access management
data classification
business continuity and disaster recovery
penetration testing, Red Teaming, Hacking Services.
Change
We can help you improve and better manage your cyber security capability. We will help you develop and implement a strategic plan to build a robust capability to defend your organisation while meeting the regulatory obligations. Our services include:
security programme strategy and planning
security transformation
security governance
security awareness.
Improve
Cyber security improvement includes assisting with:
implementing a strategic plan to transform your organisation's ability to defend itself from Cyber-attacks
improving security related processes e.g. security operations or incident response
selecting and implementing security related technologies e.g. SIEM etc
raising awareness of Cyber risk in your organization.