This unique programme has been specifically designed by Grant Thornton Cyprus for high school students (currently in year 5 or 6).
At Grant Thornton, talented people are at the heart of our strategy and drive all of our successes.
Grant Thornton offers something you can't find anywhere else. This is the opportunity to develop your ideas and thinking while having your efforts recognised...
Grant Thornton can give you a flying start. We are ambitious. Take the fact that we're the world's fastest-growing global accountancy organisation.
Change and ongoing transformation are fundamental requirements for success in the 21st century.
The Grant Thornton Business Consulting team supports organisations in their transformational journey, from assisting clients create an understanding of their current position and the areas where some sort of change is needed to achieve their strategic goals; to designing and implementing the relevant activities for transforming their business, while planning for the unexpected.
We, the Grant Thornton Business Consulting team, consist of professionals with a wide breadth of experience across the public and private sectors with expertise in solving complex business challenges and managing transformation programmes for large organisations. We bring together strong local market expertise with the international network of Grant Thornton, to act as the ideal transformation partner. We provide support to our clients throughout their transformational journey, from reshaping business models, optimising processes, building brand communication strategies, designing go-to-market plans, and developing organisational strategies; to assisting them towards technology adoption and digital transformation, all aiming at creating a competitive advantage in their sector.
Our Business Consulting services
We help solve complex business challenges and issues across 6 key areas:
Strategy Planning and Design
Strategy development and implementation through effective strategic plans is crucial to the success of any organisation. It creates clarity of focus, enables organisations to make better choices and is the foundation on which long-term, sustainable success and growth can be built.
At Grant Thornton Cyprus, we believe that strategy should be greater than vision, goals, priorities, and plans. It is the result of choices senior leaders make, on where to play and how to win, to maximise long term value. A comprehensive strategy moves organisations towards a goal or vision, acknowledges the challenges they face, and provide an approach to overcoming them.
We believe that strategy is fundamentally linked to the DNA of an organisation and should align to the behaviours within the business. Our bespoke service starts with inward examination of the business to facilitate the development and delivery of effective strategies to meet the core needs of the organisation. Our novel approach blends our local knowledge, sectoral experience, and global perspective to devise innovative and tangible ideas to support clients reach their long-term vision for the future.
Why Grant Thornton
Our Business Consulting team includes subject matter experts with proven project, programme and change management capabilities. Our collaborative and flexible approach enables us to assemble tailored, multi-disciplinary teams who deliver a holistic solution to multidimensional issues. At Grant Thornton Cyprus, we have a genuine interest in our clients, their challenges, growth ambitions and wider commercial context.
Operational Excellence
Operational Excellence is the seamless execution of business operations, unlocking opportunity for organisations to deliver strategic objectives.
Operational Excellence exists from an organisation to function level. It encompasses People, Process and Technology, ensuring efficiency and effectiveness across all 3 areas. With business operations running seamlessly, it enables an organisation to remain agile, cost effective and gives space to focus on growth activities.
We can help you in designing and implementing your target operating model, offering the following services:
Operational excellence framework design
Organisations are composed of people, processes, and technology and how they relate to each other is how the organisation operates. If they are appropriately aligned the organisation should achieve its strategic objectives. If they are not aligned, there is disharmony and a lack of synchronicity. We provide recommendations as to what is appropriate for people, process and technology elements aiming at the optimisation of the current state, based on the organisation's strategic plan, vision, and goals.
Operational excellence framework implementation
This involves the drafting of an action plan leading to the implementation of relevant recommendations from the operational excellence design phase. Our goal is to enable our clients to deal with those issues themselves and make ourselves redundant. Embed continuous improvement culture in the organisation, make organisations more sustainable, help them get started on their operational excellence journey and give them the means to complete it by themselves.
Why Grant Thornton
Our Business Consulting team is comprised of subject matter experts in the design and implementation of operational excellence frameworks, leading organisations to adapt, transform and achieve their business goals and objectives.
Programme and Project Management
Organisations embed in their culture that they should be in a constant state of innovation and change to be able to continue to thrive and grow. However, despite the increasing level of investment in change programmes, a large number fail to deliver. This is often caused by the absence of a coordinated strategic approach to the planning and delivery of projects.
We help our clients bring innovation from concept to reality in a safe and measured way. We do this using proven best practice approaches in programme, and project management.
The team assists clients in Programme and Project Management, ensuring that a structured and transparent approach is taken to planning, monitoring, and delivering change benefits for the organisation.
Every project and programme is different, and our highly experienced team takes a personal approach to understanding our individual clients' needs. Options such as agile and design thinking can be assessed along with traditional waterfall approaches. We tailor our solutions to align to the organisation and its culture.
Why Grant Thornton
Our Business Consulting team has extensive experienced in innovation and change management and we support our clients with the successful delivery of their programmes and projects using best practice methodologies.
We have experience working with both private and public sector clients across various sectors of the economy, including Agri-food, Health, Financial Services, Technology, Telecommunications, Retail and Logistics and Distribution.
Leadership, People and Culture
With nowadays constant disruptions, combined with the specific goals and objectives of each organisation and the need to stay ahead in the market, it is of outmost importance for organisations to prepare their people and align efforts towards their strategy.
Grant Thornton Cyprus helps clients in several key areas including:
Human Resources (HR) process re-engineering
Redesigning the core operations of an HR functions, by re-engineering the relevant processes, leading to efficiencies, and increased productivity.
People development and upskilling
Designing the Learning Management Framework, based on organisation and industry needs, including learning development strategies to ensure the right training is provided at the right time, in the right place for every individual.
Performance and Reward management
Designing the framework for measuring performance across organisations, departments, and individuals, allowing for clear indication of responsibilities and accountabilities; enabling targeted conversations about performance with individuals. This enables the design and implementation of a meaningful reward strategy, a key contributor to maintaining a highly skilled and engaged workforce.
Culture development
Mapping the current culture in relation to the desired culture (based on organisations' goals and objectives). Assisting organisations reach their desired level, with the development of culture change programmes, that enhance employee engagement allowing for the identification of employee concerns, and hence, to the development of relevant strategies to address those concerns.
Why Grant Thornton
Our Business Consulting team is made up of organisational and people management experts emphasising in creating the right culture and the right mechanisms to manage performance, while ensuring and that people have the right skills to perform their duties to the full of their potential.
Supply Chain Management
Globalisation has had a major impact on supply chains in recent years. While it has allowed an increasing number of businesses to become more competitive in a wider variety of markets, it has also increased the complexity of organisation's supply chains.
As businesses are required to adapt to increasing consumer demands, including lower costs and quicker lead times, supply chain teams are often tasked with driving improvements and efficiencies to meet these needs, while managing costs and risks effectively. Due to the cross-functional nature of supply chain teams, this can often be a challenging undertaking for teams to co-ordinate and implement while, effectively managing the day-to-day movement of goods from point of manufacture to point of final sale.
Our Business Consulting team solves these problems by effectively collaborating with all necessary functions within the supply chain to evaluate the people, processes and technologies that allow it to function. This allows us to identify, implement and realise efficiencies and savings, while maintaining flexibility in an industry that is evolving and changing at a rapid pace.
At Grant Thornton Cyprus, we can work with your supply chain team to realise and implement the required improvements in areas such as the below:
supply chain analysis
streamlining of processes
supply chain mapping
strategic sourcing and procurement
demand planning
logistics and distribution
margin and SKU rationalisation
supplier management
data analytics.
Why Grant Thornton
Our Business Consulting team is drawn from a variety of industry backgrounds. This gives us a holistic insight into the ever-evolving area of supply chain and allows us to work in a truly collaborative way that will effectively utilise our niche expertise.
Finance Transformation
A common issue for many organisations is the huge amount of unrealised value stored in their finance departments.
Vast quantities of high-quality data relating to key business operations are processed by finance functions but extracting value has proven challenging. In many cases this is the result of either inadequate technologies and systems or poor utilisation of those systems.
Finance teams get caught up in day-to-day operations and simply do not have time to deliver the right business insights to the board and leadership team.
Why Grant Thornton
Our Business Consulting team helps organisations to transform their finance function by reviewing processes and technology and making recommendations to optimise department's operations.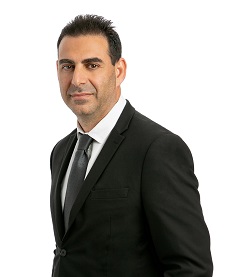 Get in touch
Business Consulting Partner