Grant Thornton Cyprus' Digital Risk team continues its growth and investment with the appointment of two (2) Cybersecurity Specialists, Simon Loizides and Nicolas Markitanis. Joining the Firm as Principal Cybersecurity Consultants, Simon and Nicolas will support the vision of the Firm to become a Regional Cybersecurity Center of Excellence.
The Digital Risk department offers a comprehensive and multidisciplinary range of services including Penetration Testing, Incident Response, eDiscovery, Digital Forensics, Data Protection and Privacy services, IT Audit and Cybersecurity Compliance (ISO 27001, NIS2, NIST CSF etc.).
Penetration Testing (PenTesting) is a core service offering for Grant Thornton Cyprus. It is a simulated cyber-attack on a company's systems and networks to identify vulnerabilities and weaknesses; a crucial tool that helps companies protect themselves from real-world cyber-attacks.
Christos Makedonas, Digital Risk Leader at Grant Thornton Cyprus, said: "In recent years, PenTesting has become commoditized, with many companies offering the service at low prices. While this may seem like an acceptable option for businesses, it is actually a significant cause for concern. Low priced PenTesting services often translates to a substandard quality of service, with less thorough testing and fewer recommendations for remediation, relying at the same time on automated techniques instead of the skills of a truly professional offensive security expert. This can leave companies vulnerable to real-world attacks. At Grant Thornton Cyprus, we appreciate the importance of PenTesting; this service assists in mitigating significant risks and therefore should not be commoditized. Our PenTesting services are thorough and comprehensive, and we always provide detailed recommendations for remediation. We also have a team of experts with deep experience and credentials in offensive security, who are dedicated to providing the highest quality of service to our clients".
Commenting on the appointment, Christos Makedonas said: "This is why we invest in our people and growth, and we are very happy to welcome Simon Loizides and Nicolas Markitanis as Principal Cybersecurity Consultants. The two new members of our team have deep experience and credentials in the field of Offensive Security. They bring a wealth of knowledge and expertise to the Firm and will be instrumental in helping us achieve our goal of becoming a Regional Center of Excellence for Cybersecurity services".
Nicolas Markitanis added: "I am thrilled to be joining this amazing team and even happier to be a part of the Grant Thornton family. I have worked on numerous projects, with many companies at various business growth stages, but regardless of the industry or size, Cybersecurity is always a constant, focused in safeguarding the future. Cybersecurity isn't something you buy, it's something you do, it's something you invest into. In the era of information, ignorance is not bliss, ignorance is a choice".
Simon Loizides said: "I am excited to continue my professional experience with Nicolas at a company that can support us in terms of delivering high-quality penetration tests to prospective clients, with a heavy focus on manual testing and the exploitation of vulnerabilities to demonstrate business impact".

About Simon Loizides
Simon is co-leading the offensive security offerings at Grant Thornton Cyprus. He has been involved in multiple offensive security engagements (penetration tests, challenge creation etc) spanning four continents over the last 8 years. He holds the following professional certifications:
Offensive Security Certified Professional (OSCP)

CREST CRT (equivalency)

eLearn Certified eXploit Develoepr (eCXD)
Simon also is one of the coaches for the national team representing Cyprus at the annual ECSC CTF event, as well as an admin of the CyberMouflons hacking community.
About Nicolas Markitanis
Nicolas is a Principal Cybersecurity Consultant at Grant Thornton (Cyprus) Cybersecurity Ltd with more than 8 years of combined consulting experience in information security, penetration testing and vulnerability assessment.
​In his career, Nicolas has delivered various end-to-end Penetration Testing engagements (External, Internal, Vulnerability Assessment, Social Engineering exercises, etc.) to clients spanning in numerous industries such as, Banking and Insurance, Shipping, Hospitality, Fiduciary, Gaming, Legal and Retail.​ He holds the following professional certifications:
Offensive Security Certified Professional (OSCP)

​

CCNA 2 Router and Routing Basics

​

CCNA 1 Networking Basics

​

Microsoft Office Specialist

​
Nicolas is one of the chapter leaders of the Open Web Application Security Project (OWASP) Cyprus Chapter, , Mentor and Coach of the Cyprus Cyber Security Challenge team and administrator and member of the CyberMouflons Cyprus Hacking Community.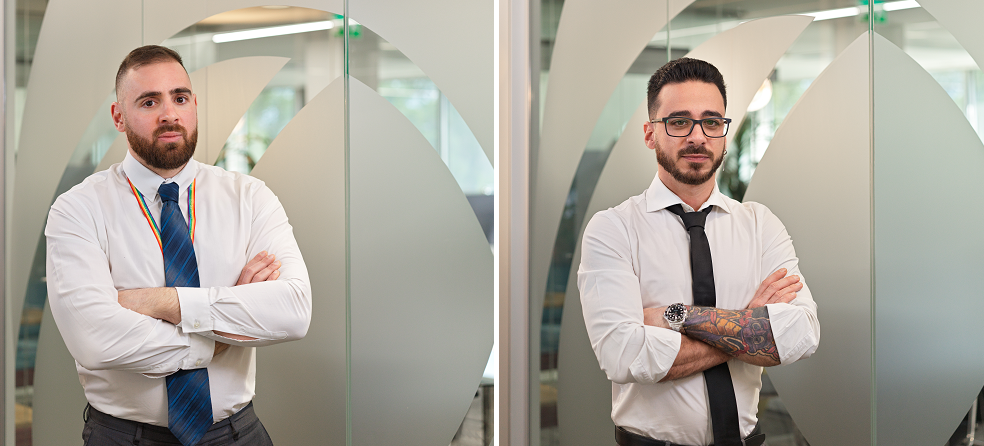 From left to right: Simon Loizides, Nicolas Markitanis