This unique programme has been specifically designed by Grant Thornton Cyprus for high school students (currently in year 5 or 6).
At Grant Thornton, talented people are at the heart of our strategy and drive all of our successes.
Grant Thornton offers something you can't find anywhere else. This is the opportunity to develop your ideas and thinking while having your efforts recognised...
Grant Thornton can give you a flying start. We are ambitious. Take the fact that we're the world's fastest-growing global accountancy organisation.
With the growing focus on ESG among corporate stakeholders – including expectations for diverse workforces and an inclusive working culture – organisations need to ensure the 'G' in ESG includes diversity and inclusion measurement. Tracking metrics including gender parity will enable businesses to set appropriate goals, manage risk, design effective initiatives, demonstrate D&I successes to stakeholders, and engage their workforces – resulting in better business outcomes.
In a world where stakeholder capitalism is pushing to become the predominant business model, driving the imperative for corporates to focus on long-term value creation for all stakeholders, environmental, social and governance (ESG) issues are now common boardroom topics. And diversity and inclusion (D&I) considerations are high on the ESG agenda, as businesses strive to reflect their customers and communities.

Diversity also makes good business sense, as we have argued over 15 years of Women in Business reporting. "There is an abundance of research linking gender diversity to greater productivity and increases in innovative thinking," says Rashada Whitehead, national managing director of Culture, Immersion and Inclusion at Grant Thornton LLP US.

"Put simply, it makes business sense to have I&D at the top of your strategic agenda. Not only is it the right thing to do, but it is what stakeholders expect," says Maddie Wollerton Blanks, People Consulting Lead at Grant Thornton UK. "There is an increasing demand for action and results in creating inclusive workplaces where diversity can flourish."
When pursuing D&I goals, much of the focus falls on social elements, with the 'G' in ESG often being overlooked. But when it comes to creating an equal, included workforce, governance is arguably the most important element of ESG, encompassing policy decisions taken by a company to change the way it approaches D&I – and the deliberate actions employed to increase gender parity.
Why diversity and inclusion measurement is crucial to business success
Gender diversity offers a compelling illustration of the business benefits of a diverse workforce. For example, in its 2020 global release Diversity Wins: How Inclusion Matters, McKinsey reported better business performance among organisations with 30% or more women on their executive teams, with a performance differential of 48% between the most and least gender-diverse organisations.
Grant Thornton's 2022 Women in Business report reveals that women now hold 32% of senior management positions in mid-market businesses globally, reflecting how pressures from stakeholders to create gender parity in leadership have helped push D&I measurement up the ESG agenda.
Each stakeholder group has its own reasons for demanding improved diversity performance. "Shareholders want to invest in sustainable and resilient businesses, and are focusing on ensuring the I&D agenda is seen as an asset and not a liability for any organisation they invest in," outlines Wollerton Blanks.
"Meanwhile, regulators want to see measurement against key reporting requirements, such as gender pay gap reporting and the incoming Corporate Sustainability Reporting Directive, which focuses on non-financial reporting including diversity and equal opportunities," she adds. "Employees and future employees are looking at how included existing and previous employees have felt. Customers want to ensure their supply chains are aligned to their values and don't present a risk to their business."
Measuring gender parity is also important internally, so organisations can make informed decisions aligned with their overall business objectives. "Diversity of thought, experience, background and skills is critical to highly successful organisations, and having the right benchmarks ensures greater likelihood for return on objectives such as gender parity," points out Whitehead.
"Having measurement in place also helps identify gaps, inequities and risks," she adds. "For example, if an organisation has hiring practices that show gender parity at entry level, but the numbers consistently decrease at higher levels, the right measurement tools would help to identify this challenge and help leaders devise proactive solutions."
With measurement and regulation increasing across all ESG issues, D&I initiatives can benefit from lessons being learnt in how to track and report against non-financial business impacts, accelerating the velocity at which diversity, equality and inclusion measurement and strategies can be implemented.
And speed is of the essence, warns Wollerton Blanks. "Organisations need to start to gather data and develop meaningful strategies to tackle their challenges. However, this window is finite, with stakeholder expectations for meaningful and data-led strategies to achieve inclusion and diversity goals rapidly progressing."
The evolution of D&I measurement
In Grant Thornton International's Blueprint for Action to increase gender diversity in senior management, one of the six key pillars is diversity data. Each business's position on the diversity scale will be different, and the actions required to move towards a positive outcome will vary. By analysing the position and progression of female employees, businesses can identify representation gaps, opportunities for improvement, and where targeted changes are needed.
To achieve this, consistent, relevant measurement is key. Research by Boston Consulting Group has identified five key metrics for gender diversity on which goals and interventions can be based, and which enable businesses to measure progress toward gender parity over time. Pay, recruitment, retention, advancement and representation are all crucial to mapping a company's position.
But which of these metrics being employed, and has measurement changed over time? Grant Thornton's annual Women in Business research interrogates the measures businesses use to track gender diversity in their workforce. In our 2020 report, researched prior to the coronavirus outbreak, we asked mid-market businesses if and how they quantified their working environments, and the extent to which their people felt that cultures in which they worked were diverse and inclusive. Broadly, respondents were unsure where to start, and which factors to prioritise.
Fast forward two years, and with the impacts of the pandemic front of mind, we found an evolved landscape in the way businesses measure gender diversity and inclusion, and the importance placed upon measuring it. Covid-19 and the renewed focus on ESG globally has meant leaders now see inclusion measurement as more of a priority.
"We are increasingly seeing the executive and board hold individual accountabilities for improving D&I, especially from a characteristic approach, such as appointing a head of gender equality," observes Wollerton Blanks. "Leadership accountability is particularly effective where there is a clear and consistent understanding of the business case for inclusion for that organisation specifically, with a roadmap to address prioritised challenges. This gives leaders a tangible and objective measure of their own success and return on investment in their inclusion efforts."
In a changed working environment, where a hybrid location model has been adopted by many organisations, D&I measurement is also being used to ensure the workforce is engaged. "While inclusion has been paramount to the global workforce for quite some time, the remote work environment and other social pressures have created new obstacles to building connection and engagement," points out Whitehead.
Gender diversity metrics tracked: 2022 versus 2020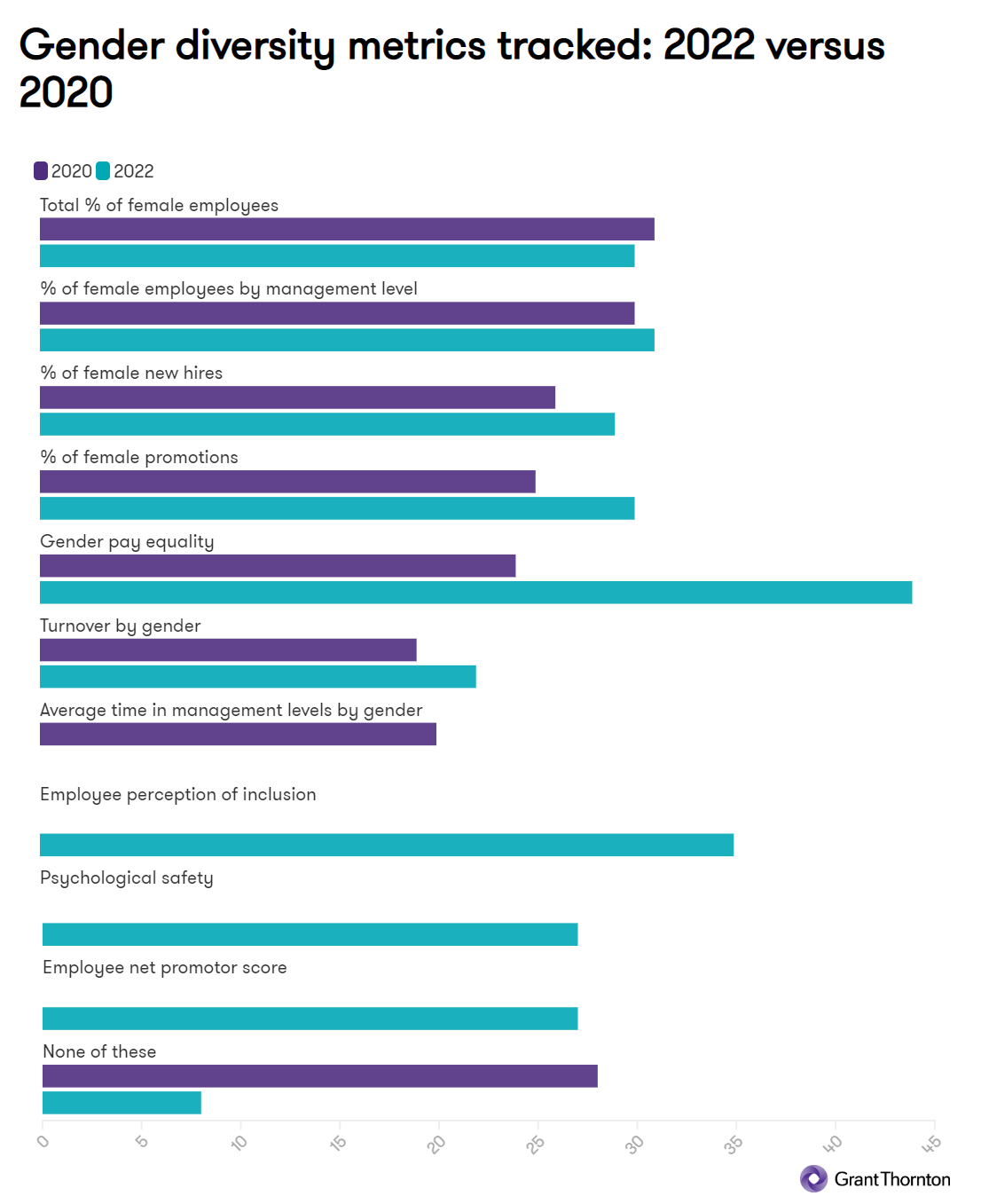 Gender diversity tracking provides a case study for the evolution of D&I measurement. Over the two-year period, we see that the percentage of companies tracking no gender diversity metrics has fallen dramatically, from 28% to just 8% – reflecting the overall importance of measurement. Meanwhile, the proportion of companies tracking standard, first order metrics capturing female representation has remained largely constant, with little change in 2022 from the 2020 figures. Total percentage of female employees (30%), and percentage of female employees by management level (31%) are tracked by just under a third of companies worldwide – with negligible change over two years.
However, there is a notable change in second level metrics relating to female progress and acquisition since 2020. There are more businesses recording nuanced equality metrics, including the percentage of female promotions (30% in 2022 versus 25% in 2020); percentage of female new hires (29% versus 26%); and turnover by gender (22% versus 19%).
As an outlier, we see a substantial shift in the tracking of gender equality pay, up to 44% globally from 24% in 2020. This is likely due to the growing regulation on gender pay gap reporting around the world – but it remains a powerful metric for measuring gender equity in the workplace. Equality of numbers is insufficient if women in senior management continue to be paid less on average than male counterparts. Overall, our research reflects greater adoption of specific measures which track committed equality strategies related to female success within, and access to, roles in businesses. Rather than simply recording the number and seniority of female employees, organisations are looking at how they are recruiting, promoting and retaining those women. It's promising to note that as ESG issues and therefore a D&I focus become more entrenched, the metrics businesses adopt are evolving with them towards measurement of more action-based outcomes.
"Many organisations are now realising that measuring numbers is table stakes: specific, proactive metrics are a must," says Whitehead. "Efforts need to go beyond measuring static numbers, to looking at how they promote people, leadership development programs, hot-skills training and other investments to help future female leaders thrive."
How to meaningfully track inclusion in the workplace
Measuring progress towards inclusion in the workplace falls within the parameters of governance. The adage is, what gets measured gets done, but is there a proven link between increased measurement and an improved sense of inclusion? Yes, if you track the relevant data.
"It's important to make sure you are measuring the right metrics to understand how to embed meaningful change and to determine the effectiveness of your approach," asserts Wollerton Blanks.
"Gender pay gap reporting, for example, has shown us that one challenge with only focusing on diversity measurement is that an organisation can be investing to improve inclusion yet show a backwards step in their diversity data in the short term. Inclusion data gives a much more 'real time' reflection of progress."
The methods currently being used to assess diversity and inclusion vary widely depending on capacity and appetite for data gathering and analysis within an organisation. Without global regulation around the subject, most companies employ a voluntary reporting model which meets their stakeholders' needs.
In 2022, we see significant numbers of businesses recording wider metrics around inclusion, such as employee perception of inclusion (35%), psychological safety (27%), and employee net promotor score (27%). While these were not metrics that featured in the 2020 research, it's safe to assume that employee opinion-oriented research has increased among companies looking to understand their D&I position.
Ultimately, the right metrics are, says Wollerton Blanks, those which determine how included people feel throughout their lifecycle as an employee. "This creates an actionable data set from which to build a prioritised roadmap and measure progress."
"For many, understanding the makeup of their workforce from a characteristic perspective is a significant first hurdle," she adds. "There are a couple of factors in this: the first is that of systems and processes – organisations do not all have a means by which this type of people data is regularly gathered and refreshed. The second is in building the trust of their workforce to disclose this data with the understanding that it is only being used to improve the culture and experience of everyone."
Third-party, anonymous, online tools can help allay concerns among staff that data will be used to identify and target individuals. "We have had instances where the number of people disclosing protected characteristics has been 10 times higher in our external online tool as opposed to in response to the company's internal data gathering," reveals Wollerton Blanks.
Inclusion measurement and the future of work
The long-term impacts of the coronavirus pandemic, changing working models and new priorities among employees are combining to make inclusion a key focus in the drive to tackle talent shortages. In order to secure the skills they need going forward, businesses must be transparent around how they are working to create a supportive, connected, equitable work environment, and display measurable success.
Rashada Whitehead reflects on the challenge businesses are facing to attract and retain talent. "It's getting harder, not easier," she says. "This makes it critical to have measurement programs that keep a finger on the pulse on inclusion, belonging, engagement and overall sentiment. The new hybrid working world is challenging for all businesses, and many will get it wrong. Measurement can help businesses stay on track and even improve their efforts, no matter where their workers are located."
By demonstrating to all stakeholder groups – including investors, employees, customers and the wider community – their commitment to inclusion, organisations will set themselves up to achieve the benefits of a diverse workforce and succeed in the new working landscape.
Visit our diversity and inclusion hub for research and tools enabling leaders to create the diverse perspectives and inclusive cultures needed to navigate these uncertain times.