This unique programme has been specifically designed by Grant Thornton Cyprus for high school students (currently in year 5 or 6).
At Grant Thornton, talented people are at the heart of our strategy and drive all of our successes.
Grant Thornton offers something you can't find anywhere else. This is the opportunity to develop your ideas and thinking while having your efforts recognised...
Grant Thornton can give you a flying start. We are ambitious. Take the fact that we're the world's fastest-growing global accountancy organisation.
The international student market is growing and proactive higher education institutions will work with policymakers to shape the agenda.
By 2025 the international student market is predicted to reach 8 million students1, representing a considerable opportunity for higher education institutions (HEIs). But access to this market is shaped by countries' foreign, economic and security policy decisions – especially those related to immigration and visas.
While government thinking shapes the policy agenda, HEIs must work collaboratively to make their voice heard and ensure that the policy environment allows them to thrive. Those that don't will struggle to remain competitive. By demonstrating the economic and political benefits of international student mobility, institutions can boost their competitiveness and gain market share.
Our recommendations: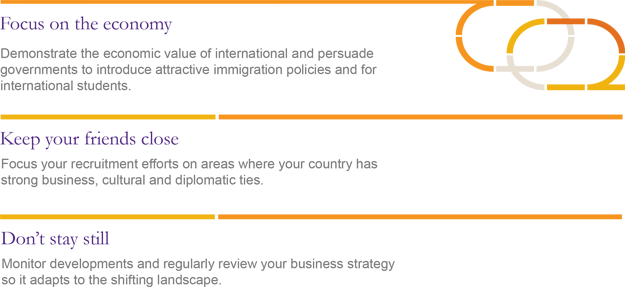 Our team has broad experience working in the higher education sector. And with member firms in 130 countries we can help you develop robust global or local business strategies that align with the wider political environment.
This is the first in our series of reports exploring the implications of international student mobility for HEIs. Future reports will address finance and fees, recruitment and reputation and the future of the sector.
Read full report
Download PDF [469 kb]