This unique programme has been specifically designed by Grant Thornton Cyprus for high school students (currently in year 5 or 6).
At Grant Thornton, talented people are at the heart of our strategy and drive all of our successes.
Grant Thornton offers something you can't find anywhere else. This is the opportunity to develop your ideas and thinking while having your efforts recognised...
Grant Thornton can give you a flying start. We are ambitious. Take the fact that we're the world's fastest-growing global accountancy organisation.
Grant Thornton's latest International Business Report (IBR) survey finds an improving global economic picture at the end of Q1 2017. First, it identifies significant increases in business optimism in key economies. And it suggests that the long-awaited economic recovery is finally taking hold after a prolonged period of low interest rates, stimulus measures by central banks and cheap oil.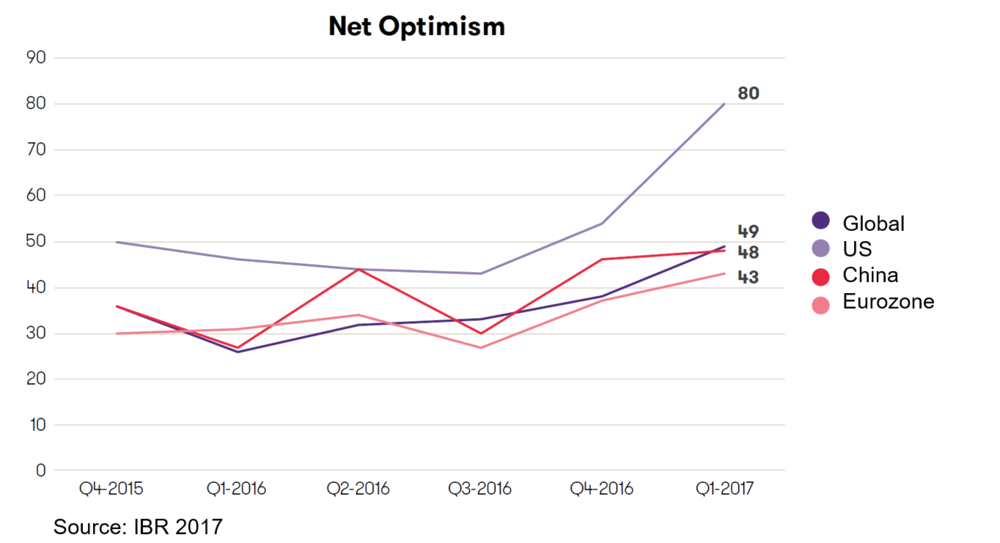 Positive signals from the US Federal Reserve and promises of tax reform and large infrastructure projects from the pro-business Trump administration form the catalyst that's igniting business confidence. US optimism surged in the first quarter of 2017, rising by 26 percentage points (pp) on Q4 2016 to 80%. This increase is coupled with an 8pp increase in expectations for investment in plant and machinery.
This surge in optimism isn't limited to the US. In the Eurozone, optimism is up 6pp to 43%, despite inflation in the bloc falling back under 2%. National rates vary, but improved expectations for employment and exports are widespread across the continent. For example, in February German unemployment reached its lowest levels since unification in 1990, and export expectations increased by 13pp in the first quarter.
However, the economic recovery is patchy and threats to its sustainability are looming.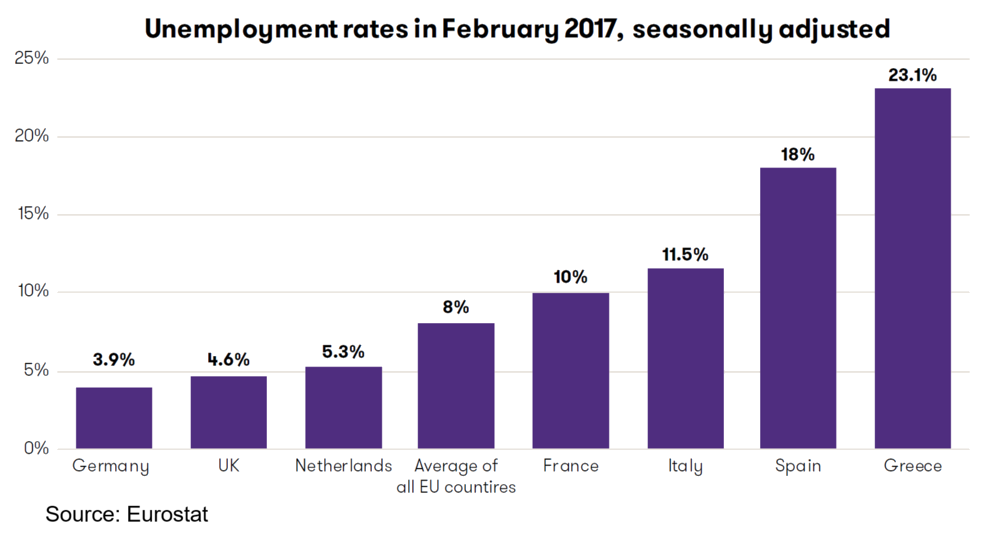 Forthcoming elections in France and Germany bring uncertainty around the future direction of national and regional politics. A move to the right could lead to protectionist trade policies. These in turn might undermine the recent growth in exports and employment that are driving improved consumer confidence. The EU is also beginning to grapple with Brexit, which has the potential to disrupt established trade flows.
In the US, despite the surge in overall business optimism, revenue, profitability and selling-price expectations all fell during Q1 2017. This trend is also seen in the Markit US Manufacturing Purchasing Managers' Index (PMI), which tracks new orders, employment and prices. Its steady fall since January 2017 suggests that business leaders are somewhat cautious despite the optimistic headlines. This reflects their awareness that tax reforms and large infrastructure projects could be difficult to get through a partisan congress.
Furthermore, the current geopolitical environment poses a threat existing and potential free trade agreements and traditional bilateral trade flows. Increasing protectionism could trigger trade wars and threaten the sustainability of the economic recovery.
For further information please contact:
Jenny Hadjicosta, Marketing Manager, Grant Thornton Cyprus.