Consumer products

Home
IBR
In uncertain times, agility is a necessity for exporters
Our IBR global business executive survey found that export expectations hit an 18-month high in the first quarter of 2017 after years of economic stimulus by governments and central banks take hold.
Travel, tourism & leisure

Home
Travel, tourism and leisure
Business model innovation: hotels' roadmap to 2020
Guests are less loyal and more demanding than ever before. They use online travel agents (OTAs) and aggregators to find the best hotels and deals – which helps operators fill their rooms, but at a cost.
Not for profit

Home
Not for profit
The politics of international student mobility
The international student market is growing, and proactive higher education institutions will work with policymakers to shape the agenda.
Businesses open to outsourcing
Two in five mid-market businesses around the world either currently outsource a back-office process, or plans to in the near future. That is the key finding from our new report - Outsourcing: driving efficiency and growth - which looks to better understand attitudes to outsourcing: Why and what functions are businesses outsourcing? What is preventing businesses from outsourcing? And how can these obstacles can be overcome?

The benefits outsourcing can offer businesses are widely recognised, with the principal drivers being desire to find efficiencies (57%) or to reduce cost (55%). Tax and accounting (49%) and IT (46%) are the main processes companies currently outsource.

However, a majority of business leaders remain reluctant to outsource; the principal barrier emerges as an unwillingness to lose control of a key process (44%) followed by the high cost of implementation (32%) and the risk involved with contracting out a key process (27%).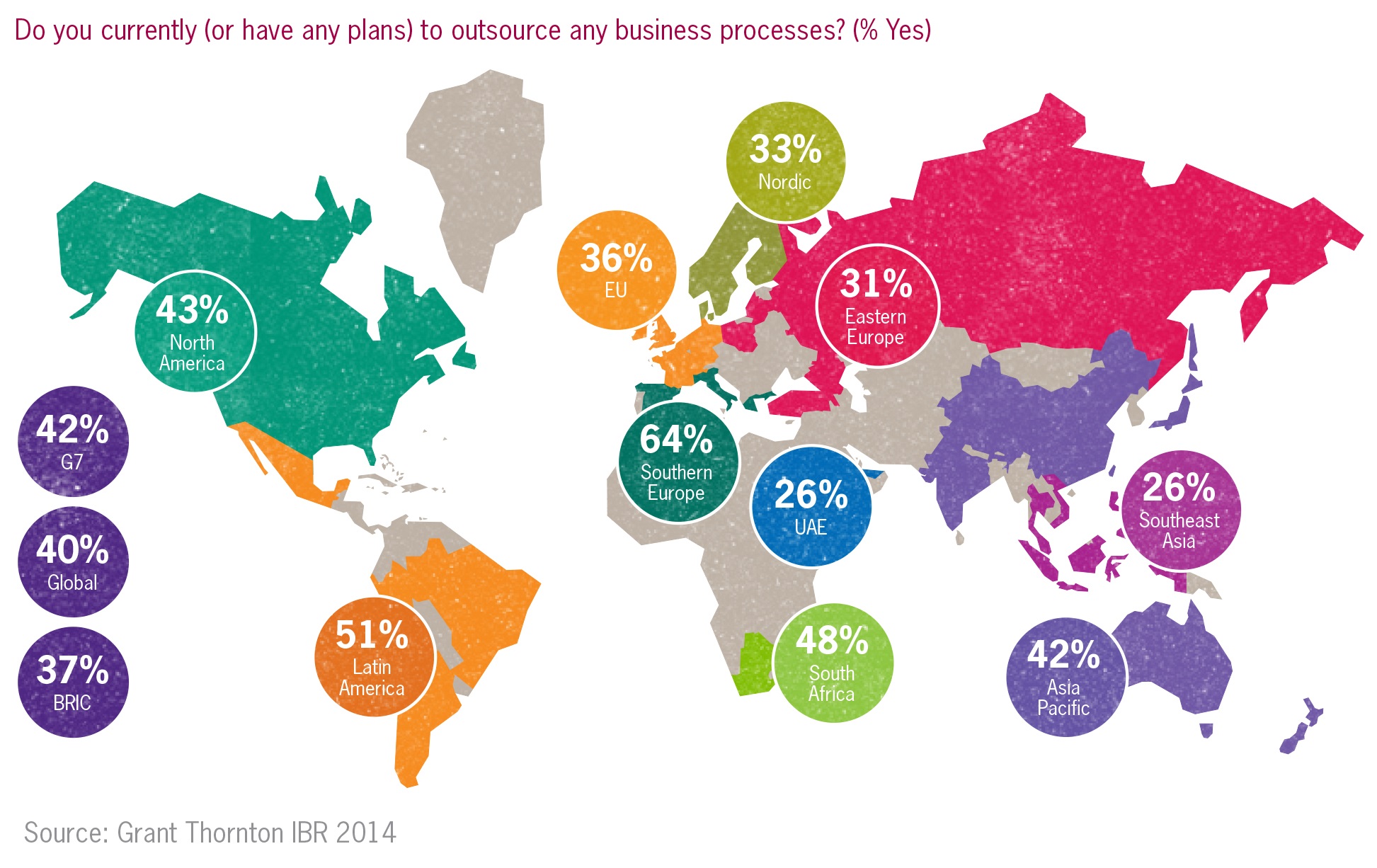 Read more about our survey methodology here.
Read the full report
Download PDF [2114 kb]